How in the world do you carry on with a special day when someone you loved so dearly isn't there to celebrate with you?
Even a typical family suffers from the stress and overwhelming emotions of their special day. But a wedding day can magnify and complicate feelings when the couple or their family is mourning a loss.
Taking a moment to acknowledge the obvious elephant in the room - who's missing - often allows for the rest of the occasion to be enjoyed more thoroughly.
One of our readers, Elaine Suarez, experienced the tragic sudden loss of her 27 year old son, Joseph Anthony Suarez, in 2018. Elaine's daughter Allie was married to her sweetheart exactly a year and a week after they lost Joe. His absence was felt by everyone in the wedding party.
At first, Allie considered changing the wedding date, but she says "I knew my brother wouldn't want me changing it." She goes on, writing "I can hear him saying, 'sis this is for you, I want you to be happy'."
Below: Joe with his sisters, Allie and Julianna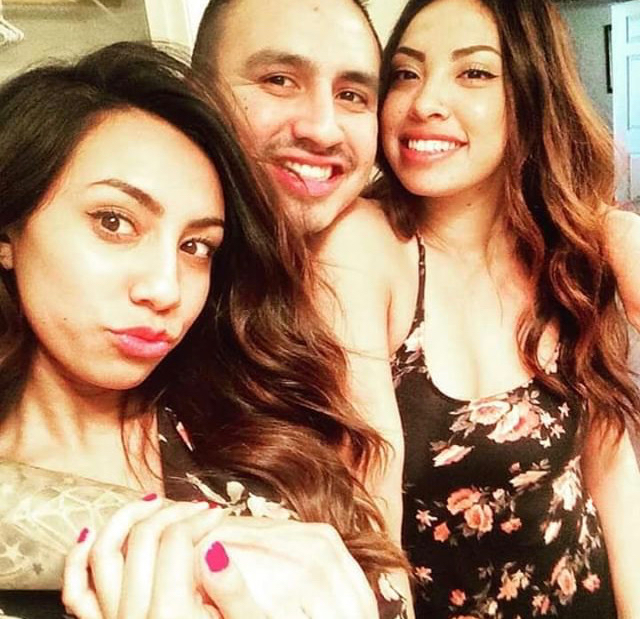 Allie knew Joe would've wanted her to enjoy her day, but it was a big challenge for her to not feel sad. Indeed, Allie says that "[p]eople kept telling me, 'don't be sad, this is your day'." But Allie objected, "well of course I was going to be sad! My brother was a part of me and it broke my heart that he wasn't there because I know if he was, he would have been the life of the party!"
Of course Joe's girlfriend, Danielle, also felt the deep loss of Joe, along with a deep desire to help his family remember Joe on Allie's wedding day. Allie took a few minutes to share with me how the family choose to honor Joe at the wedding, and still celebrate in the midst of the loss.
Sometimes the anticipation of a big event like a wedding can be overwhelming or anxiety-inducing. However, for Danielle, she felt an anticipation she described as being "overwhelmed with strength". Even so, "I had up and down emotions at times," she says.
Looking at pictures in preparation for her memorial was a big trigger for her, reminding her of the absence of Joe's presence in an event he would have loved being a part of. But Danielle remained focused on her supportive role. "Most importantly, I was ecstatic for Allie to enjoy this amazing and special day," Danielle adds. She thoughtfully added that the special day did include Joe, only he would be present in a different way.
Danielle had the idea to create a special memorial table for Joe at the wedding, to which Joe's family enthusiastically agreed. In fact, the family even helped add to the remembrance table as the wedding approached. Joe's father, Isadore Suarez Jr., created a special message board "that played a huge role in the remembrance table." Danielle did her best to display different objects that represent Joe's personality, which she describes as "individual inside and out, charismatic, full of laughter, love, and good vibes."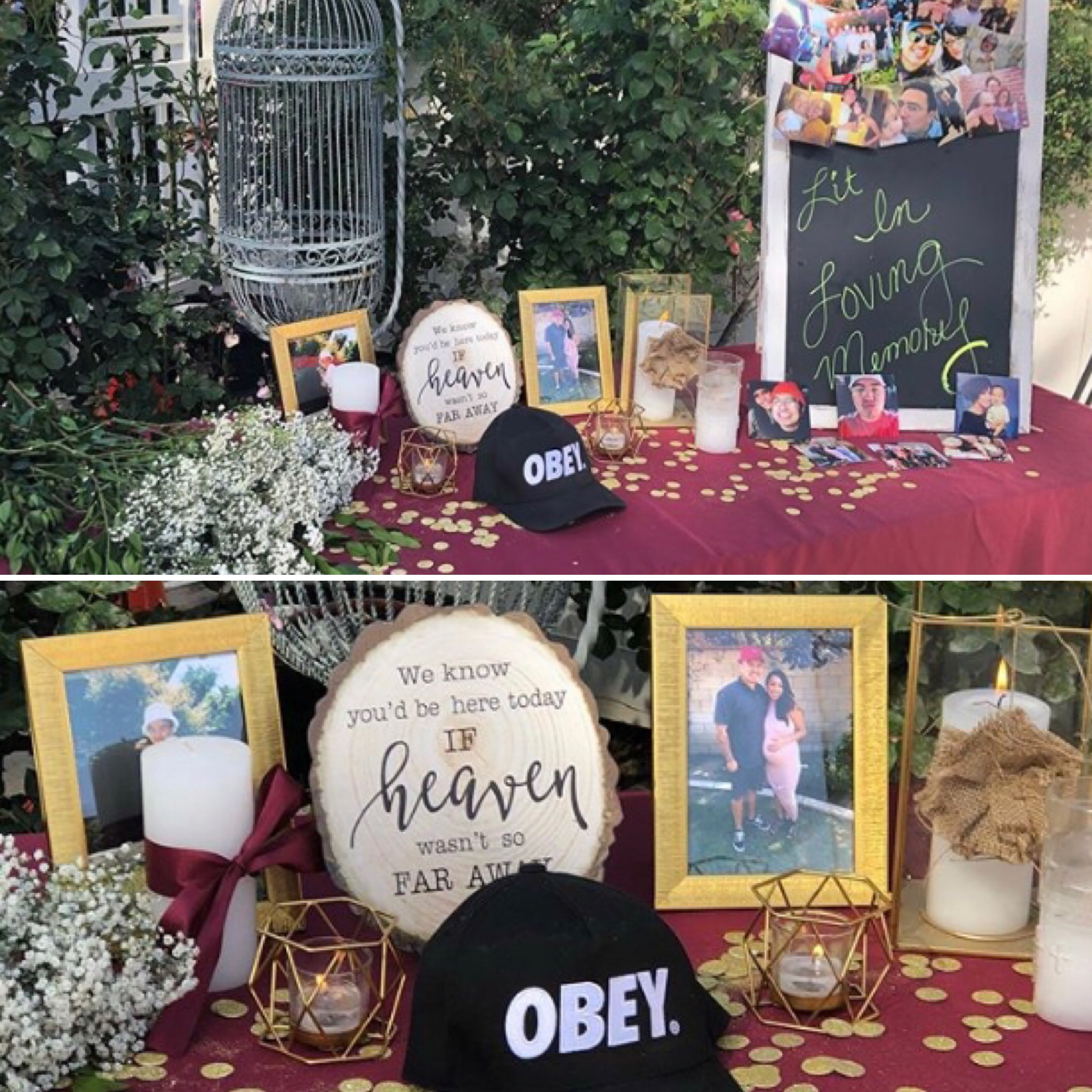 In addition, Joe "had a passion for fashion and he wore it proudly," Danielle recalls, adding a hat "that symbolized his uniqueness" to the table. Danielle surrounded that hat-centerpiece with "pictures, candles, and flowers because his life represents something so beautiful." Danielle's goal with the table was to "make the table come alive and represent both Joseph and his sister Allie at the same time.
As the table was set and the wedding proceeded, Danielle says "I felt good and relieved. I was so happy that my vision was able to come alive for Allie's special day." She says, that "[t]he feedback and support of all Joseph's family made me feel so warm inside. I was so happy that they enjoyed it!" Allie, the bride, reflected that, "It helped make me feel like a part of him was there. Even though it was hard, it also brought me joy."
Below: Danielle, right, and Joseph's mom, Elaine, left, at Allie's wedding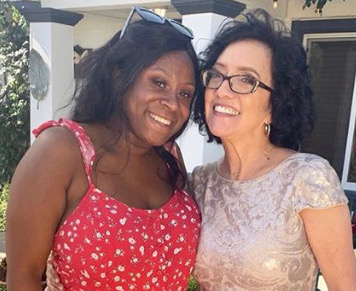 I asked Danielle and Allie what advice they'd give to couples facing a similar situation: balancing loss and celebration.
Danielle writes: "My advice for others is to find things along the way that YOU are most comfortable with. It may be helpful to tell the story of your loss or talk about your feelings. If you don't feel like talking, find ways to express your emotions and thoughts through other actions."
She also gave some wonderful ideas for remembering a lost loved one at a special event:
Make their favorite dish at a special event or family gathering
Play music they used to listen to in the background
Hold the event at a location they loved or always wanted to visit
Danielle also highly recommends that loved ones take time to process the loss for themselves. She suggests "writing in a journal about the memories you have… and how you're feeling since the loss. Or write a song, poem, or tribute about your loved one. You can do this privately or share it with others."
Allie definitely agreed. She says, "I just felt if I could have had one moment […] and let it all out then I would have felt a little better […] Of course I was happy on my wedding day, but I needed to be sad too because I missed my brother." She advises, "allow yourself to be happy on this amazing day but also allow yourself to grieve them and cry; don't hold anything inside because it just makes thing harder."

All in all, the wedding was a celebratory and meaningful day for the Suarez family. Looking back on the day, Danielle says, "This was both a beautiful and heartbreaking time for everyone, but I believe with the remembrance table, it was just right!"
Even happy celebrations of weddings can find deeper meaning and intimacy through the experience of a shared memorial commemorating those they've lost.
I cannot thank the Suarez family (Isadore, Elaine, Allie, and Juliana, along with Danielle) enough for entrusting me to share the beautiful story of their beloved son, brother, and friend, Joe.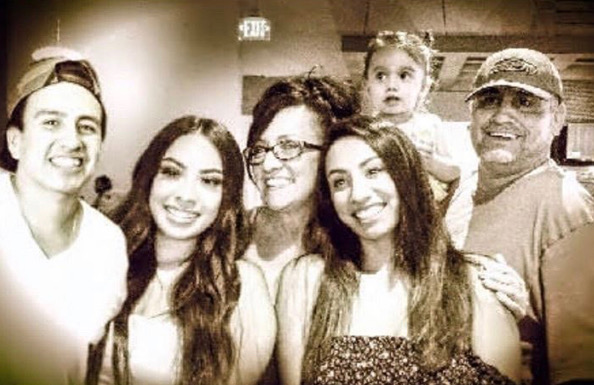 Elaine writes about her son, and her journey through grief at her blog. Elaine, Allie, and Danielle, share their loss and memorial in hopes that it will encourage and inspire other families going through a loss.
Comment: How have you honored a lost loved one on your special day?