So a co-worker, friend, or far away family member just experienced a loss. You know you want to send a card, but what do you say? Avoid these mistakes and get to know some actually helpful things you can write.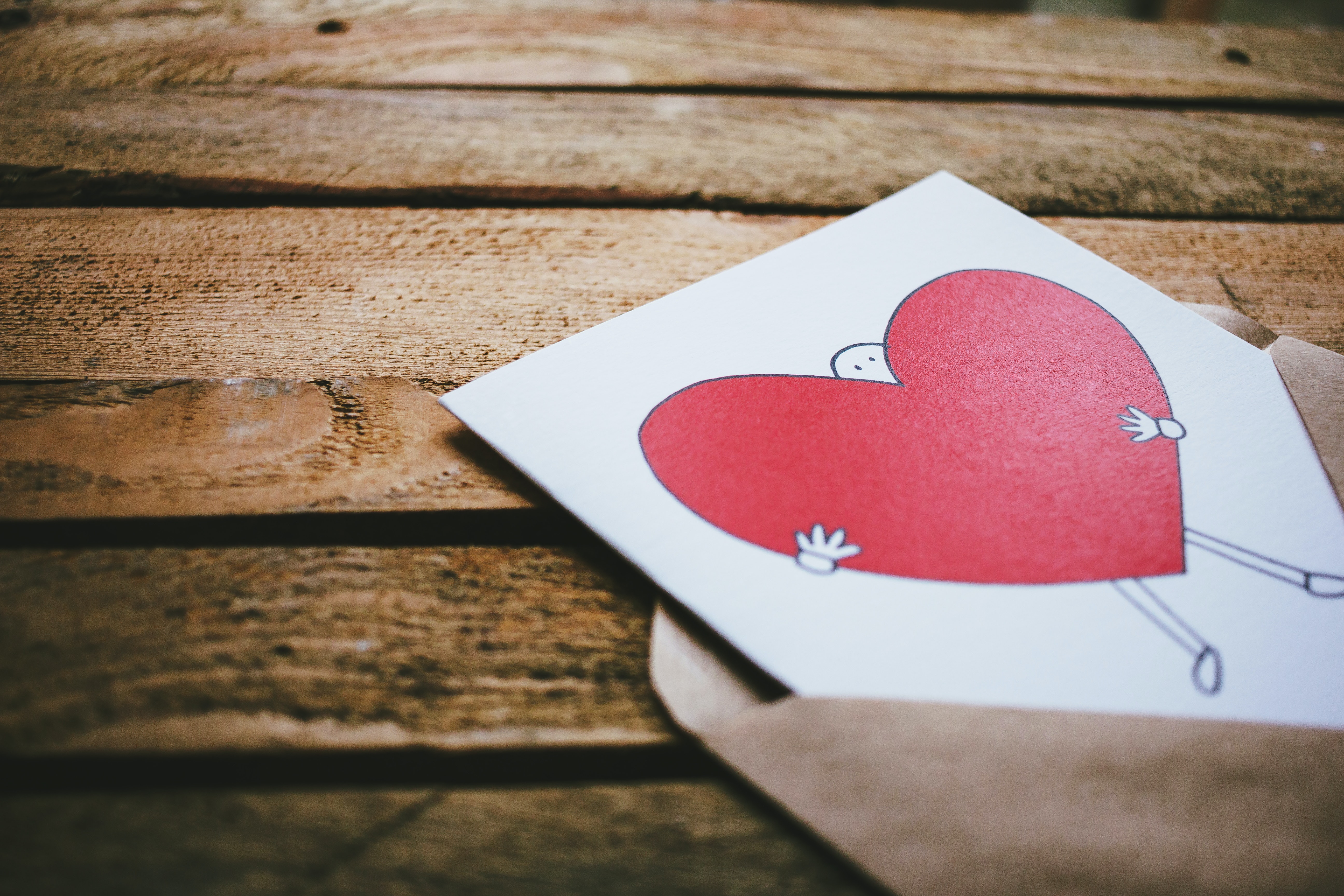 A lot of things people say (or write in cards) are super awkward, and frankly, not helpful to the person who's grieving. But instead of letting that fact psych you into not writing a card at all, or not saying anything, how about you take a few minutes to learn a better way to support your grieving friend or family member.
Your words have power to wound, cover up, or actually help them heal. Way to be a support to them in this tough time!
Note: Remember to be creative and put my suggestions into your own voice. Fit what you write to the circumstances of the loss (Was it a tragedy or expected? Were they young or old?), and your relationship to the griever (Are you close friends? Co-workers? Only friends way back in high school?).
14 ideas for what (not) to say in a sympathy card

1. Don't use "bandaid" phrases"
Time heals all wounds. At least they had a good life. God has a plan - you just need to trust him. Sometimes these tried-and-true phrases have some truth behind them, but this isn't the time to offer them to a griever. When offered in the wrong time and place, "Bandaid phrases" only cover up the wound of their loss - they don't actually help heal it.
2. Try not to talk about yourself
"I know how you feel" might be on the tip of your pen, but hold it back - if you're serious about offering support, then this needs to be all about them.
3. Offer more than just sympathy
Words fall short. They just do. What can you offer beyond sympathetic words? If you're in town, deliver the card in person and adda hug. If you're not close, send food or gift cards.
4. Share memories
Talk about what you loved most about the past loved one, or what they meant to you. Cards with personal memories about a loss loved one will most likely be saved and treasured for years to come.
5. Acknowledge their unique loss
Was it a tragic accident? Untimely death? Miscarriage? Death by suicide? These types of losses are loaded with taboos and supporters often shy away from mentioning anything, for fear of upsetting the griever. But let me tell you - they're already upset! Mentioning the unique aspects of their loss in a non-judgmental way tells them that you're a safe person to come to for support later on.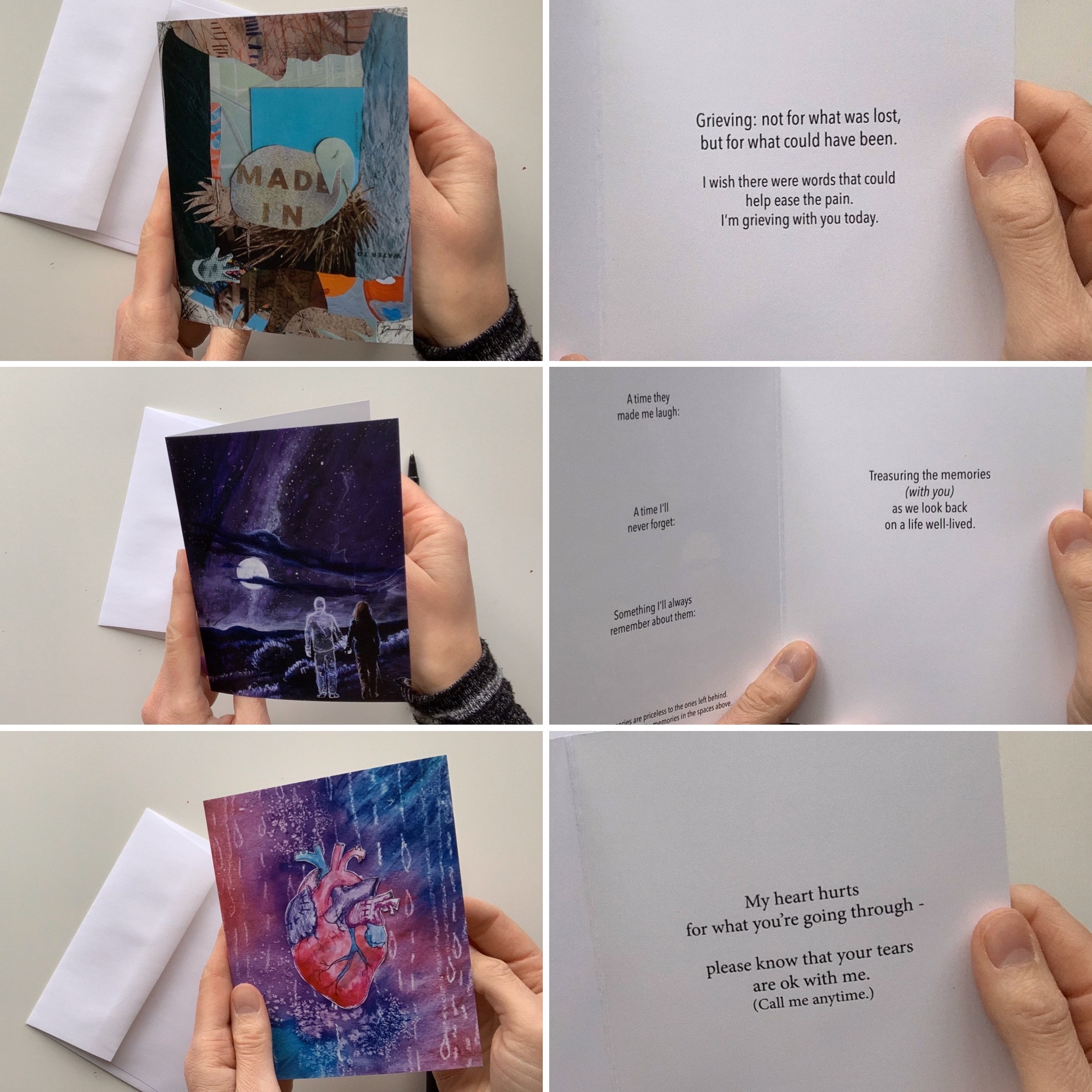 Get the sympathy cards I created here.

6. "I'm grieving with you."
What a powerful statement to offer to a griever - but don't offer this statement lightly. What would it mean to grieve with (or alongside of) someone? If you're willing to go there emotionally (and physically show up however you can), do offer this life-giving statement!
7. Define "I'm here for you."
A general "I'm here for you" isn't specific enough for the griever to actually take you up on the offer. Write what you're willing to do, and when. When they ask you for help/support, that's a big deal! So make sure you actually follow through.
8. Make them a coupon book.
Similar to the above idea, create IOUs or coupons for things you're willing (and able!) to help them with. "Good for 1 night of babysitting," "Good for 1 house repair," "Good for 1 manicure friend-date with me." Get creative with this one!
9. Send a 1 year later card, too.
If it's a recent loss, it's very likely that everyone's offering support right now. But the feelings of grief often come later, when everyone's moved on. Be the kind of friend who puts the death anniversary into their calendar and follows up on that day - I guarantee it'll mean the world to them.
10. Give them permission to cry in their presence.
Because society in general still shies away from grief, people need permission to grieve, express their "ugly", and cry. You can't change society, but you can grant them permission to not have to always "be ok" when they're with you.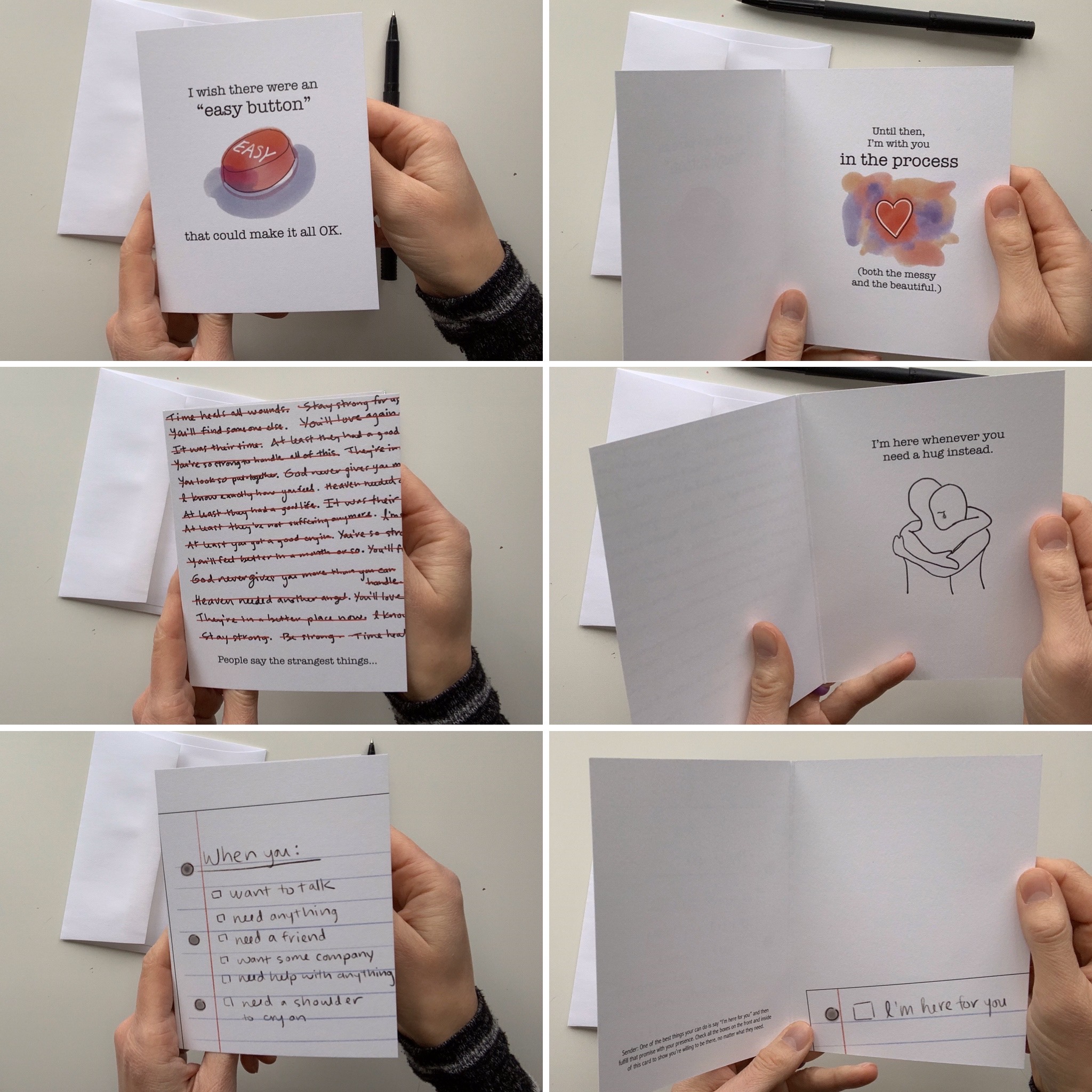 Get the sympathy cards I created here.

11. Tell them you'll be there for the long haul.
Acknowledge this is a long process, and you'll be there to walk with them. This is a fantastic card to help say that.
12. Be honest: "I don't know what to say."
Rather than not writing anything, offer this statement. Admit you're out of your comfort zone, but you're willing to learn and listen.
13. Include your phone # and a gift card.
There's lots of ways you can encourage a griever without having to say much.
14. Give a sympathy card that's not silly!
It's my passion to help grievers and supporters creatively express the complicated emotions of grief. I created a set of sympathy cards that meet all these criteria, offering prompts to help the sender write something more than just Bandaids. Get the sympathy cards I created here.
Gift a course: Give healing through art

I work with people who've experienced all different types of losses. Regardless of their previous art experience, I teach art as a tool for grief recovery. Would your griever benefit from taking one of my online courses? You can give a course as a gift! Learn more here.