Let me just take a minute to say: I'm so very sorry for the loss that brought you here. You've likely been through a lot of emotional pain and adjustment since your loss. But I'll bet you've also learned a lot and grown a ton as well.

Processing your grief and doing the "work" of mourning has allowed you the opportunity to begin to discover who are are and what you want to do with the rest of your life.
You've got quite the exciting journey up ahead!
I want you to know that it's still OK to struggle, and ALSO it's OK to start to be OK (hopefully you catch my drift here). Moving forward in your life doesn't erase the fact that your lost one was once with you. In fact, I'll bet it's because of them, and also losing them, that your life has started to take on a different, and dare I say - stronger - form! There's no shame in that.
Does this sound like you?

I'm beginning to dream a bit in this new season of life (even though I entered it unwillingly!). I feel like there's so much more to life than I'm currently living. What I need is some support in developing new life skills that will help me discover and accomplish new goals and dreams. I'd also like to begin helping others in some way.
Guess what? You are a "Grief Artis Gem"!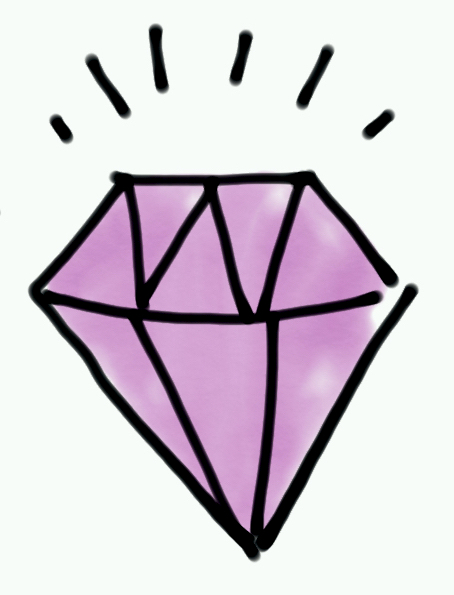 "Um… what's a 'Grief Artist'? I'm not an artist. I can't even draw a stick figure!"
I know, it sounds crazy, but I'm not just talking about art here. A Grief Artist is someone who learns to transform the pain of loss, and uses it to make something beautiful out of their lives.
Don't get me wrong, I don't think anyone is born with that kind of resiliency. But I do believe that it can be taught.
Grief artists are rare gems in this world because they've gone through stuff, and yet come out softer, stronger, and victorious, and determined to survive. You are already starting to transform the emotional pain of loss, into something beautiful.
Right now, you might still be feeling broken, OR you might wonder how you can keep heading towards healing.
Either way, here are some tips and resources I compiled for you, to help you on your new journey of discovery:
Begin to recognize other grievers and help them in their journey.

Share your story. Some people choose to do this on social media, some share in a support or church group, some share one-on-one with a friend. However you do it, it is important to share your story because it will help others, as well as yourself. It helps you by understanding how far you've come and how much you've overcome (talk about a confidence boost!). It helps those who are grieving, because they need to know that their emotional pain right now will indeed lessen over time. It even helps those who haven't experienced loss yet, because it makes them aware of the process, and maybe helps them hold their loved ones a closer longer today.
Share resources that helped you with those who are grieving. Again, this could be on social media, in a small group, or over coffee with an acquaintance who has just lost someone. If you think Project Grief's resources would help them, I'd love your recommendation! You can send them to check out my mini-course, Grief Art 101, here.
Be on the lookout for the next person in your sphere of influence to go through a loss. You understand what they went through, and yet you are not so blinded by your personal pain so as to make you unable to help them. Someone like you can be an invaluable resource to them in their time of need.

Learn about the grief process. Understanding what you've been through and where you're at now can help you understand where you want to go from here. If you haven't done it yet, Grief Art 101 is a great way to get acquainted with the grief process, as well as your personal journey.
Try a new hobby. I suggest art! By the way, Master Your Grief is a great option for you to learn art while you continue working on your self-care. Get a free 14 day trial here.
Consider counseling. I'm a huge fan of counseling and I think everyone needs it. Now that you're not in "crisis mode," consider counseling as a way to help you continue this growth and help you discover more of who you are and what you want to do with your life. Visit www.counseling.org to find a licensed therapist near you.
Consider coaching. Coaches ask questions and enable you to engage in self-discovery. I'm a Therapeutic Art Life Coach. Master Your Grief has ten in-depth lessons and art projects that lead you step-by-step on your journey to full healing after loss. Anyone can learn to use art as a tool for grief recovery - no previous art experience is required. Remember, you can get a 14 day free trial here.
Whatever you chose for your next step, I'm convinced it'll be so beautiful. You already know that hard things are always worth it. : - )