Do either of these sound like you?

I'm feeling quite lonely. My loss has greatly impacted my social life. What I need most right now is a listening ear, someone who doesn't mind keeping me company, and/or people who share my interests.
OR
I'm feeling a bit direction-less. Loss changed the way I lived my life, and now that it's happened, I'm not sure what to do next. What I need is some support in (re)discovering who I am, what I enjoy, and what I want to do with the rest of my life.
If so, let me just take a minute to say: I'm so very sorry for the loss that brought you here. Your grief is seeking your attention right now, and it can be a really uncomfortable time. Often it can feel like you're on a roller coaster with all of these emotional ups and downs.
I like to call these ups and downs, growing pains. That's right, those uncomfortable aches you got when you were a tween? It's the painful process of transformation. You, my friend, are a "Growing Grief Artist."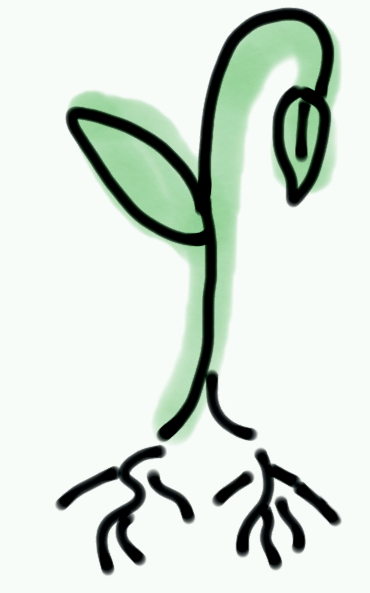 "Um… what's a 'Grief Artist'? I'm not an artist. I can't even draw a stick figure!"
I know, it sounds crazy, but I'm not just talking about art here. A Grief Artist is someone who learns to transform the pain of loss, and uses it to make something beautiful out of their lives.
Don't get me wrong, I don't think anyone is born with that kind of resiliency. But I do believe that it can be taught.
So hear this: You are not a "grief victim"; you are a "Growing Grief Artist"! Let's talk about a few things that you can do right now to ease the ups and downs and start finding the stable ground you need to grow (emotionally) strong. Remember, plants come in all shapes and sizes, and the strongest are those who are able to grow despite the most adverse circumstances. I'm "rooting" for you, dear one (yes, pun intended).
Sometimes it can be confusing when one day you're fine and the next day you're not. When you're in this in-between, it can feel like you're two different people. Start to reconcile them by trying the following:
When you're having a good day:
- Write a letter to yourself, but as you write pretend you are talking to a friend (notice how much compassion you have for someone other than yourself). Write what you're thankful for today, and how you're proud of yourself for overcoming so much already. Keep this letter in a place you can easily grab when the emotions start to take a downfall.
- Encourage someone or do a random act of kindness. You'll find the act of focusing on someone else's needs, liberating.
- Get out of the house and meet up with an old friend. If talking seems too intense, suggest doing an activity together, like seeing a movie, going shopping, or running an errand.
- Try a new activity - of course, I suggest art. Go to a store that sells art supplies, head to the sale aisle and pick up whatever interests you. If it's on sale, there's less pressure to make something perfect (you're not wasting money).
When you're NOT having a good day:
- Ask yourself "why am I not OK right now?" Identifying the root cause may give you some ideas to remedy the situation.
- Call a friend who is "safe" for you to talk to and cry with. Tell them that you've been trying your best to make it through, but today you're just not OK. They'll understand.
- Go read the letter you wrote to yourself on your good day.
On any day:
- Share your grief story! Some people choose to do this on social media, some share in a support or church group, some share one-on-one with a friend. However you do it, it is important to share your story because it will help others, as well as yourself. It helps you by understanding how far you've come and how much you've overcome (talk about a confidence boost!). It helps those who are grieving, because they need to know that their emotional pain right now will indeed lessen over time. It even helps those who haven't experienced loss yet, because it makes them aware of the process, and maybe helps them hold their loved ones a closer longer today.
- Learn about the grief process. Knowing what is "normal" is often so relieving! If you haven't done it yet, my mini-course, Grief Art 101, is a great way to get acquainted with the grief process, as well as your personal journey.
Seek outside support.
You may not be in the depths of sorrow all the time, but that doesn't mean you can't seek outside help. If you're a growing plant, seeking outside support is like consulting the experts at the garden store, or adding fertilizer because the soil's nutrients are low. The goal is to help your plant (AKA, your heart) thrive, and sometimes you just need a little extra help. Two ideas:
1-on-1 Counseling: Individual counseling can help uncover and heal the hurts you've experienced from loss, as well as other issues in your life. A good counselor should be judgement-free and offer personalized care for your needs. Call your insurance provider to see what options you have for coverage. Visit www.counseling.org to find a licensed therapist near you.
Community groups: Many cities have churches, community centers, and/or nonprofits that offer free grief support groups. Simply do a local internet search to find what's available in your area.
Online self-help: Sometimes money, time, and energy are limited, and the web is a great place to turn for resources for self-help. If you feel you're swimming in resources and need some structure, Project Grief online courses might be right for you!
Get creative with your grief.
My BEST resource is called Master Your Grief. Healing from loss takes time; this is a completely online course with ten in-depth lessons and art projects that lead you step-by-step on your journey to healing after loss. And yes, anyone can learn to use art as a tool for grief recovery - no previous art experience is required. Get a free 14 day trial here.