Survival Mode (AKA "Grief Artist in Disguise")
Does this sound like you?
"I'm really just trying to survive! I'm limited in my energy, time, and financial resources. My grief is too overwhelming to face right now. What I need most is resources, and compassionate people willing to help me out."
OR
"I've survived, but I haven't had an opportunity to stop and catch my breath. Life is overwhelming, and I have others who depend on me. I'm not able to face my grief until life slows down a bit."
If you feel like either one, let me just take a minute to say: I'm so very sorry for the loss that brought you here. Your grief is troubling you very much right now, and I want you to know that it's so very normal to struggle. And it's OK to not be OK.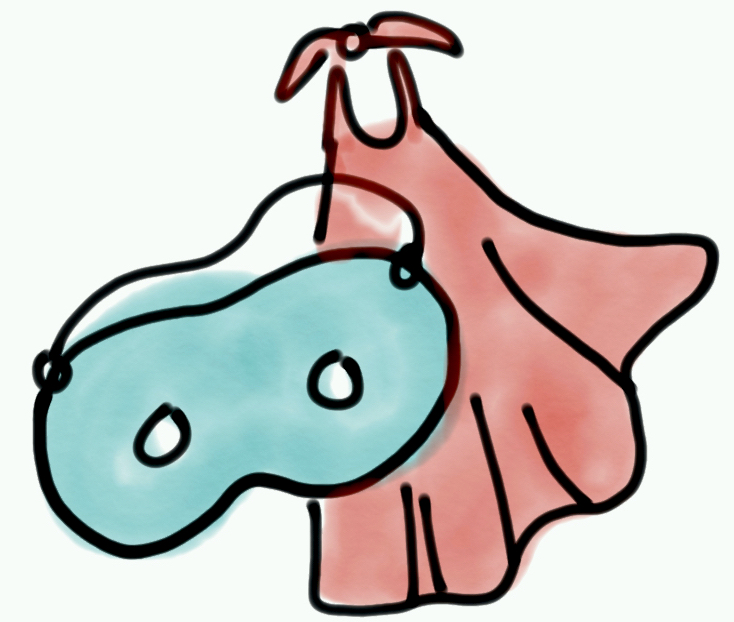 Get out your hero's cape and mask, because in addition to being a struggling griever, you might also be a … "Grief Artist in Disguise"!
"Um… what's a 'Grief Artist'? I can't draw a stick figure!"
I know, it sounds crazy, but I'm not just talking about art here. A Grief Artist is someone who learns to transform the pain of loss, and uses it to make something beautiful out of their lives.
Don't get me wrong, I don't think anyone is born with that kind of resiliency. But I do believe that it can be taught.
So hear this: You are not a "grief victim"; you are a "Grief Artist in Disguise"! Let's talk about a few things that you can do right now to ease the pain and start embracing your calling as a hero-in-disguise. Remember, heroes come in all shapes and sizes, and the strongest are those who've been through the toughest obstacles. I'm rooting for you, dear one.
Tips for the Grief-Artist-In-Disguise (Survival Mode):
It's so easy to feel overwhelmed by your grief process. I know the feeling. The thing is, it's a process. It doesn't have to be done all in one day. Select one thing that would help move you forward in the process, and just focus on doing that one thing this week.
Some ideas:
Ask for tangible help. Often a loss comes with immediate needs that someone like me (a virtual friend) can't help. If you need a babysitter, help repairing the house, or financial assistance, search immediately for charities and resources in your area.
Get trusted support. Call a friend who is "safe" for you to talk to and cry with. If you don't know how to explain what you're feeling, try letting this trusted friend read the paragraph at the end of this post. That way, you don't have to try to explain yourself. They'll understand a little more of what you're going through.
Don't bottle up your emotions. Find a lonely place to cry and process your thoughts (try bringing a journal or drawing pad). Set a timer for 10 min.s so you don't feel like you have to stay there forever.
Do one task a day. You might have some old things from your lost loved one that you need to go through. Don't do it all at once. Just set a goal of going though one drawer or shelf this week. Do another one next week, and so on.
Rest a lot. Rest when you need it. I know when I was in this place, it felt like even though my body hardly moved, my brain muscle was working overtime. I was always so tired of feeling. So I rested when I needed to. If others around you seem concerned about the change in your amount of sleep needed, however, schedule an appointment with your doctor. You don't have to explain everything to them, just check to make sure nothing else is wrong.
Learn about the grief process. Knowing what is "normal" is often so relieving! If you haven't done it yet, my free mini-course is a great way to get acquainted with the grief process, as well as your personal journey.
Other Resources:
Often times the hardest part of starting to cope with your grief is... starting. For ways to "Just Start," check out this blog post.
If you think you might need some extra help, counseling is a fantastic option! Visit www.counseling.org to find a licensed therapist near you.
Healing from loss takes time. Master (Your Grief) Course has ten in-depth lessons and art projects that lead you step-by-step on your journey to healing after loss. And yes, anyone can learn to use art as a tool for grief recovery - no previous art experience is required. Try it out with a 14 day free trial.
Does this sound like you at all? Share this with a friend to help them understand what you're going through:
I'm overwhelmed by the feelings and thoughts of grief. They seem so big that I'm afraid to start working on getting better. I'm frustrated by the long process of grief and want to speed through. I usually edit or mask my pain - NOT because I'm ingenue, but because I'm afraid I'll fall apart in front of someone and I don't know how they'll react. Even though logically I know there are things to be grateful for, I have a hard time seeing the good around me right now. When I look at myself, I see only my grief, and the fact that my loved one isn't with me. I find my thoughts are often focused on who and what was lost. I'm having a hard time seeing beyond myself and my own pain right now. I feel stuck in my grief and paralyzed by how far I have to go.