This is a guest post by Margo Fowkes, founder of Salt Water, an online community and resource hub for those grieving the loss of a loved one.
In addition to providing resources for those who've experienced loss, Margo is also passionate about helping the friends and family of those who are grieving. For those friends and family who are reading right now, you can learn how to become a compassionate and helpful supporter.
Margo shared a little of her story with me, along with TIPS for friends walking alongside those experiencing loss right now.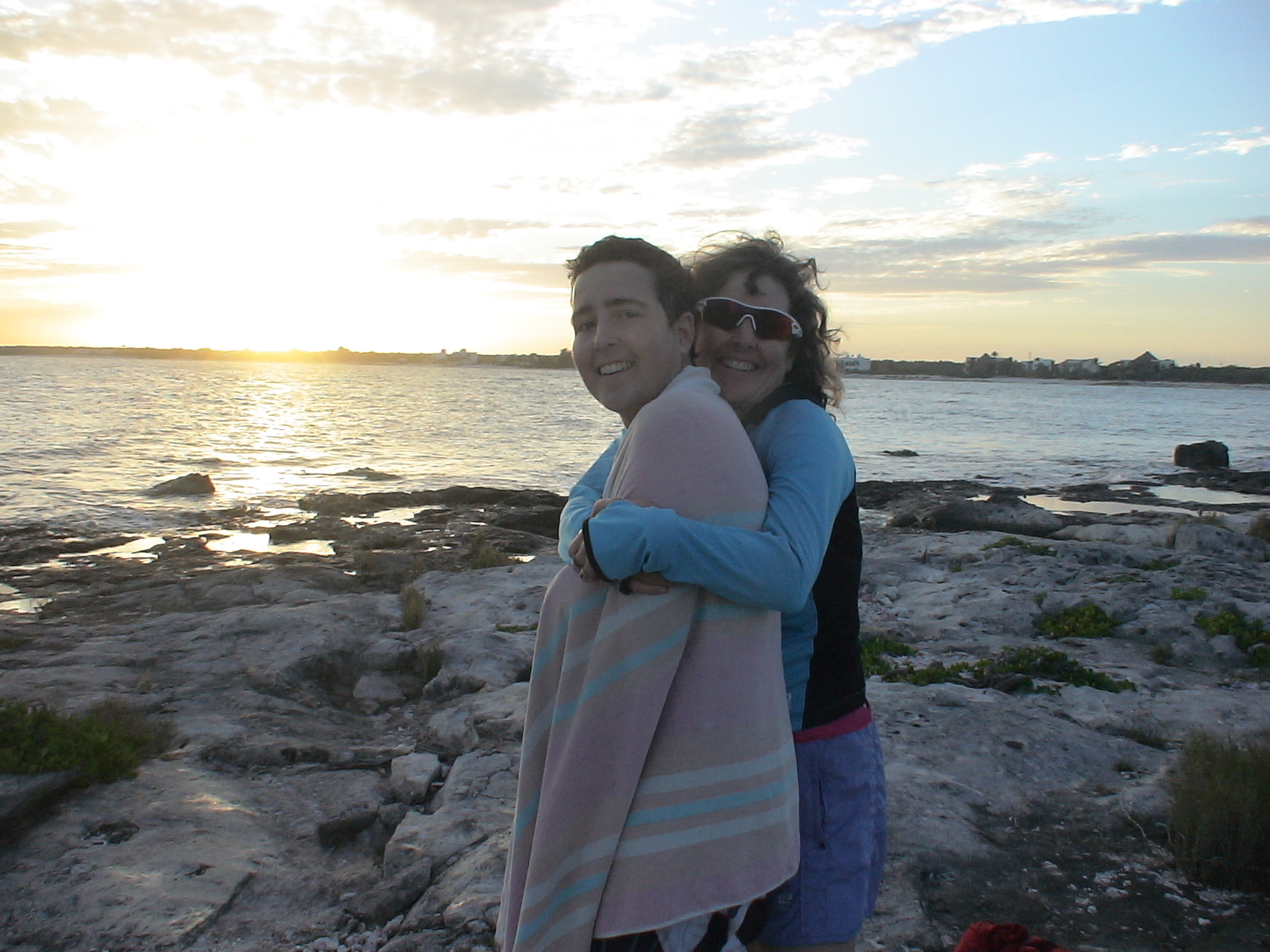 Above: Jimmy and Margo at the beach

Margo lost her beloved son, Jimmy, to cancer in 2014. Her grief journey began when Jimmy was diagnosed with a malignant brain tumor at the age of thirteen.
While grieving, she was also inspired by her son's extraordinary attitude throughout his eight year battle with cancer. It's one of the biggest reasons why she began bringing grief support to others through her grief resource site, Salt Water.
Margo says, "Salt Water is the [resource] I couldn't find after Jimmy died — a safe harbor for people who are grieving the death of someone they didn't think they could live without."
Help people understand - what was grief like for you after Jimmy passed?

Jimmy's death upended my life in so many different ways. [First,] I was no longer parenting my son, my oldest child. I was no longer caring for Jimmy, researching treatment options, contacting doctors, advocating for his needs. I found myself struggling mightily with questions [that strangers would asked me] like "What do you do?", "How many children do you have?", "Where do your kids go to school?" After [Jimmy] died, I struggled to figure out who I was and what I wanted to do for the rest of my life.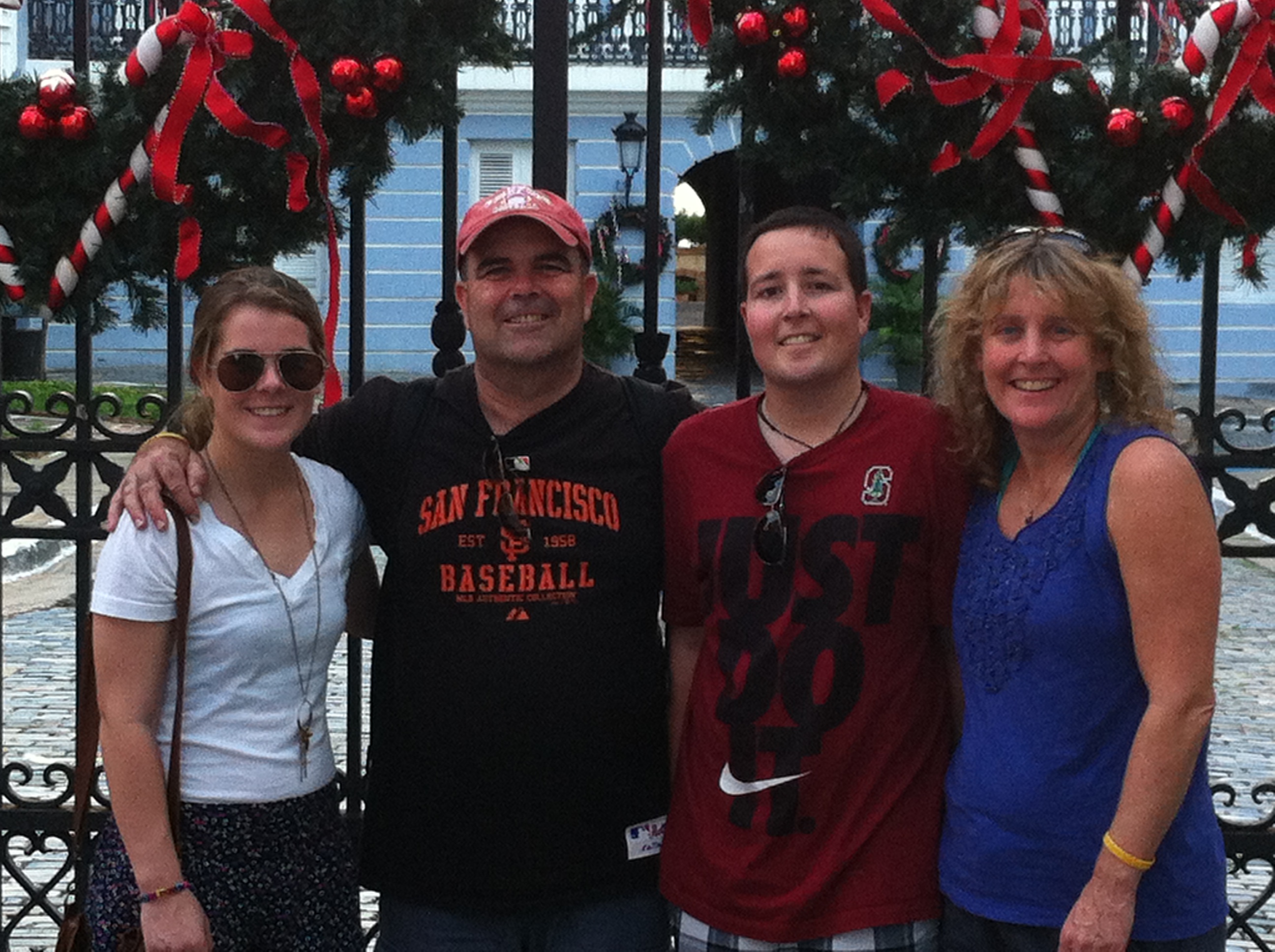 Above: the Fowkes family (Jimmy and Margo on the right)
Tell me about your experience with people who tried to help and comfort you in your loss. What were some things people did that truly helped you during that time?
I was and am fortunate to have family and close friends who leaned in hard, starting when Jimmy was first diagnosed with brain cancer. They made meals, ran errands, got me out of the house for long walks, [and] texted/emailed/called to check on me. They didn't stop reaching out, even if I didn't respond right away. They let me vent, cry, [and] rage about the unfairness of what was happening to my sweet boy. They continue to say Jimmy's name; they tell me when they miss him, think of him or dream about him; they help me keep his memory alive.
Were there some ways in which people tried to help, but it actually hurt a little?
[For me, it was the] … people who wouldn't bring Jimmy up or who, if I said his name, changed the subject. [It was the] people who, instead of coming to me in those early days when I could barely leave the house, asked me to come to them. [It was also the] people who reached out to see how I was and then … [kept] complaining or telling me about what was going wrong in their lives.
Why is it so important to be there for someone who's grieving? Encourage our readers with the vital task they have to support the hurting.
Grief is isolating and lonely. When a beloved dies, it's almost impossible to imagine how to live on. We desperately need to talk about our sadness, our regret, our guilt, our anger, our fears. We need the people who love us to sit with us in the pit and witness our pain.
Friends and family of those who are grieving often want to do something to help or to make it better. What advice would you give to people trying to help and loved one or friend through a loss?
• Say something. Acknowledge the loss. Write a note, mail a card, send an email.
• Share stories or memories of the person who's died. Keep sharing. For the person who's grieving, there are no new memories of their beloved. It's such a gift when others tell stories we don't know or relive fond memories.
• Do something. Make a meal. Send gift cards. Run errands. Be specific — "I can mow the lawn, clean the bathrooms, drive carpool, walk the dog."
• Keep showing up. The casseroles and phone calls come constantly in the early days and weeks after a death. Be the friend who's still bringing food and still reaching out months and years after the loss.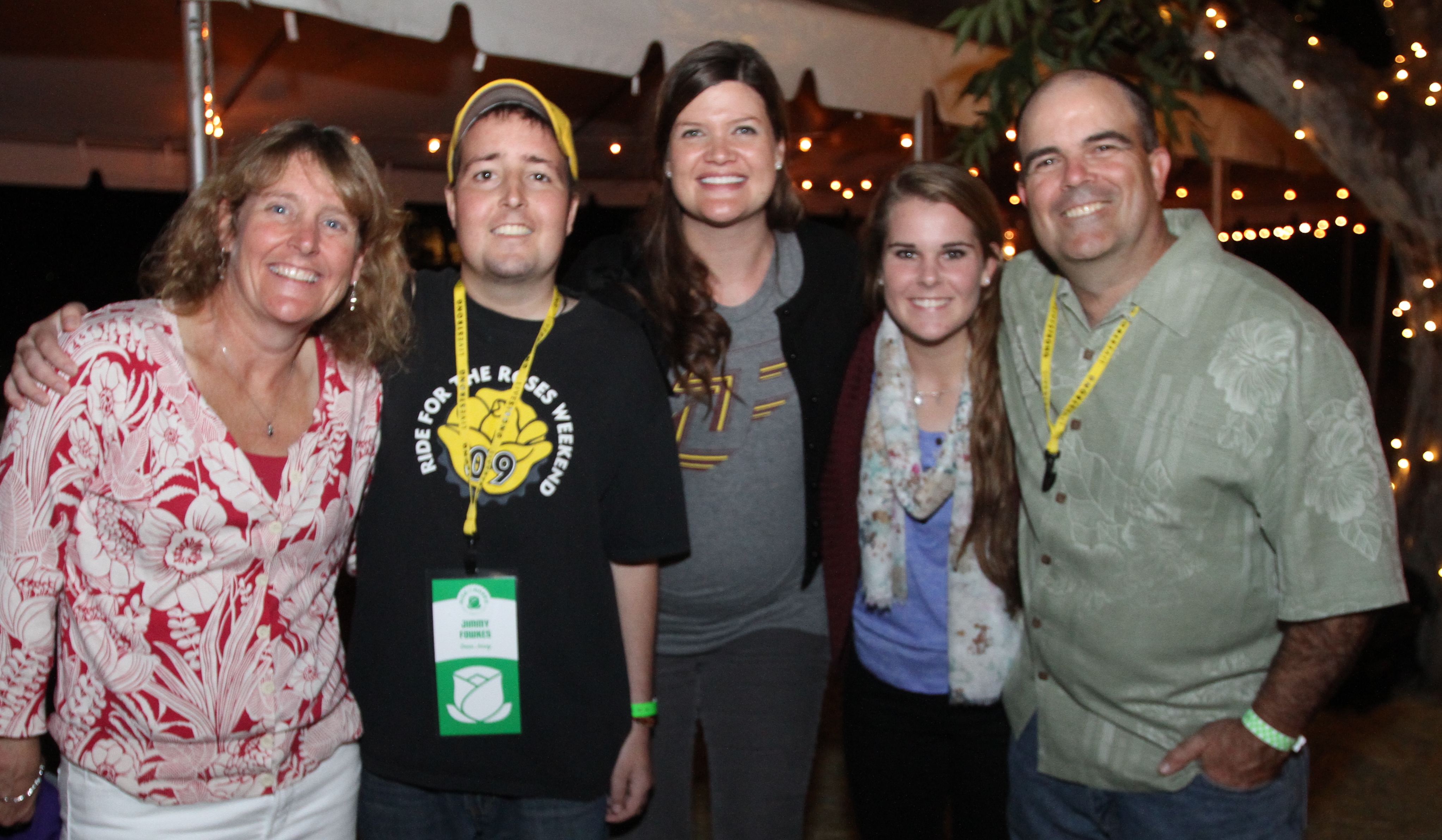 Above: The Fowkes family at a LIVESTRONG event, surround their friend Allison. Allison works for the Foundation and later became a close family friend.

Thanks so much for those tangible ideas! Tell us a little more about your Jimmy.
My son Jimmy is my biggest "why". […] Despite his situation, Jimmy never complained nor did he ever ask the obvious question "Why me?" Instead, he focused his energy on living. Four years after his diagnosis, despite a recurrence of his cancer, six weeks of cranio-spinal radiation and 14 rounds of chemotherapy, Jimmy matriculated at Stanford. He raised a quarter of a million dollars for the LIVESTRONG Foundation with help from his beloved younger sister, Molly. He fundraised, volunteered and wrote a blog for the Children's Cancer Association. And he refused to give up on his dream of going to Stanford University. In addition to my husband Dan and my daughter Molly, what brought me back to life was a desire to honor Jimmy by trying to live as richly and fully as he did.
Where can we find additional resources to help our friends — or ourselves — through loss?
Salt Water is open to everyone regardless of what they believe, where they are in the grief process, how they're feeling or what type of loss they've experienced. Our site provides resources and support for those grieving the death of a child, spouse/partner, sibling, parent, close friend or pet as well those mourning a death by suicide.
Project Grief offers a short email series about supporting friends and family through the grief process, as well as tangible gifts to give those who are grieving. If you'd like to get in on the loop as a supporter, please join our email list:
Are you ...Currently grievingSupporting a grieving friendWorking / volunteering with grieversOther
Help me support the grievers in my life
Powered By ConvertKit
Please comment below with observations and questions for our grief community to answer. We'd love to help you learn to support your grieving friends and family through this difficult time.